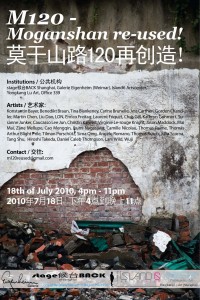 On July 18th,
my friend Konstantin Bayer organized a one-day art event
on the site of "M120″ which was an art galleries spot that got demolished this summer.
(Konstantin is an installation artist (and sculptor) from Berlin
who responds a lot to the memories of objects, houses, etc,
therefore the choice of the "diffusion site" was just perfect.)
…Our "one-day art-land" looked like one of these Kurt Schwitters's "Mertz Construction".
We were 30 artists presenting our works
-framed, to make a visual clash with that "trashy site"-
and it was such a big deal to hang our stuff up
on the few concrete walls that were still there…
Most of us also did a performance, from electronic noise to 3D projections, dance, etc.
I did one too.
And I showed nine works,
my artist statement was "one artist does not equal one style" (see previous post).
I invited my friend Camille Nicolau
(specialized in marquetry and design, she also paints)
to participate to my "Human Drips Performance" :
I did it before in one of the photo studios in Concordia:
my friend and schoolmate Didier Bellemare took pictures that time,
it was a wonderful collaboration.
…
So it was all new for me to drag somebody in my delirium to "become a painting"
(we had to be more organized, sync at least just a little, for harmony's sake).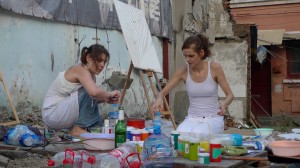 Preparation of the color mixes: 30 minutes.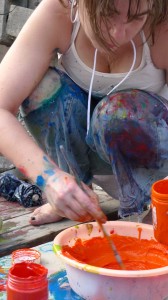 I was quite nervous to do it in front of 80 people.
The viewers responded real nicely to our piece,
and before we started offering glasses of paint
(like we usually offer glasses of wine in an art opening),
they begun to "serve themselves" and throw mixed colors at us just like we planed.
The performance lasted 30 minutes, we finished completely soaked,
and washed like we could
-improvising some street-clothed-showering from the tap water of the site
(every old area in China includes a sink in the street, no water in the houses).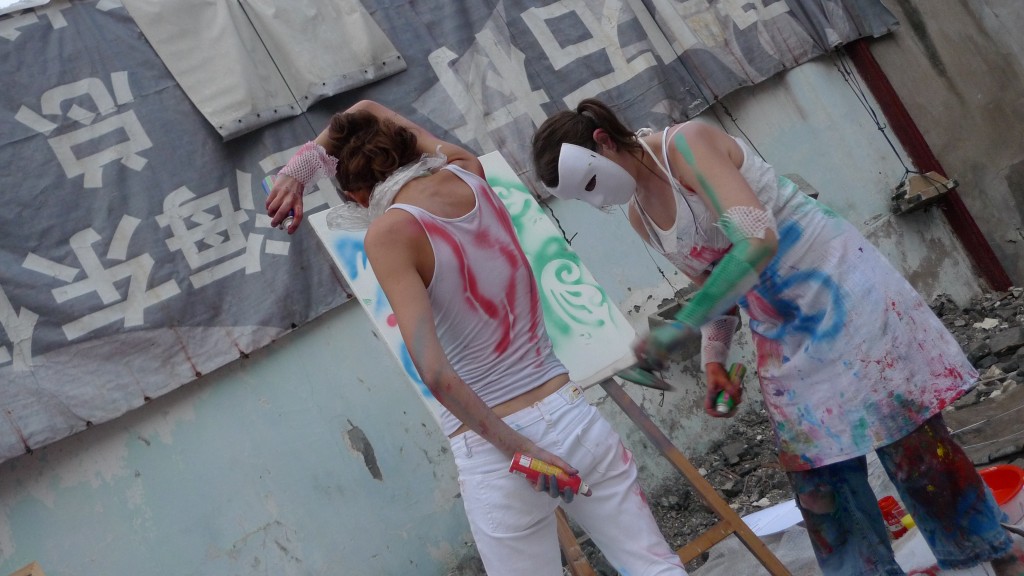 "Homage to Graph Street Art"

"Birth in Paint"
Offering glasses of paint to the people.
*
That day was a very long one,
my performance "stage" was a pit when I arrived on the site in the morning,
it was 45 degrees outside, we fried under the sun,
I stayed there for 14 hours, it was simply delicious.
…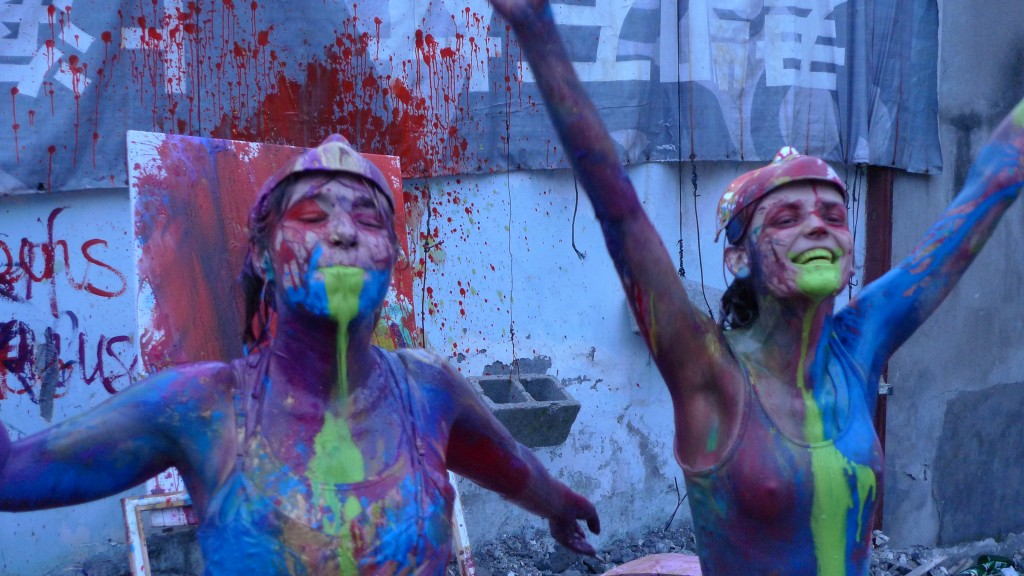 *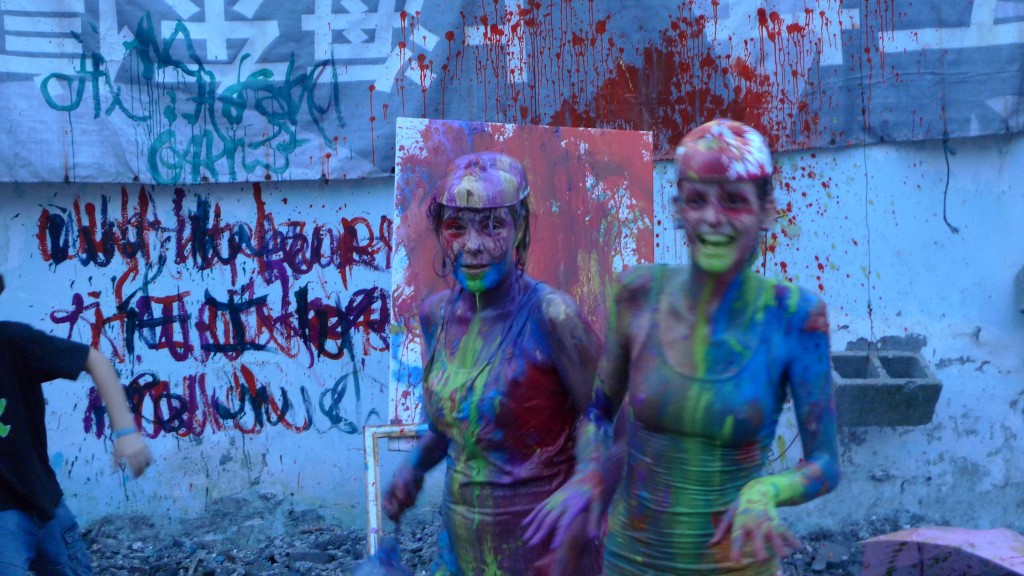 *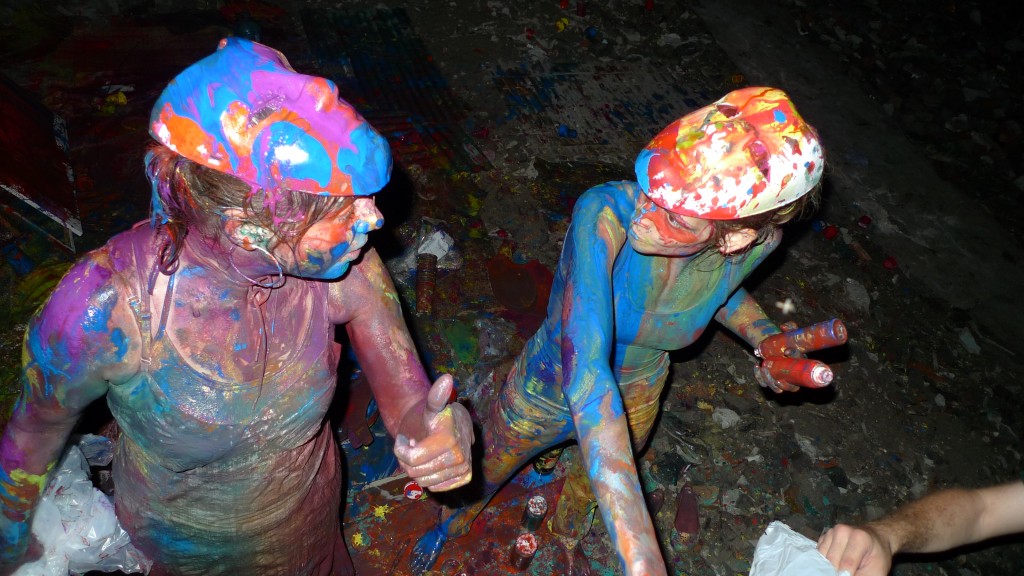 …Very special thanks to my friend Jack Zhang [YuFan] (张予帆)
for taking pictures, saving the day a thousand times, etc.
By the way this guy is a "News Fixer" (journalist) daring to [wisely] analyze his country,
which is kinda risky here, his blog is called "Inside the Great Firewall", have a look :
http://www.insidegfw.com/ .